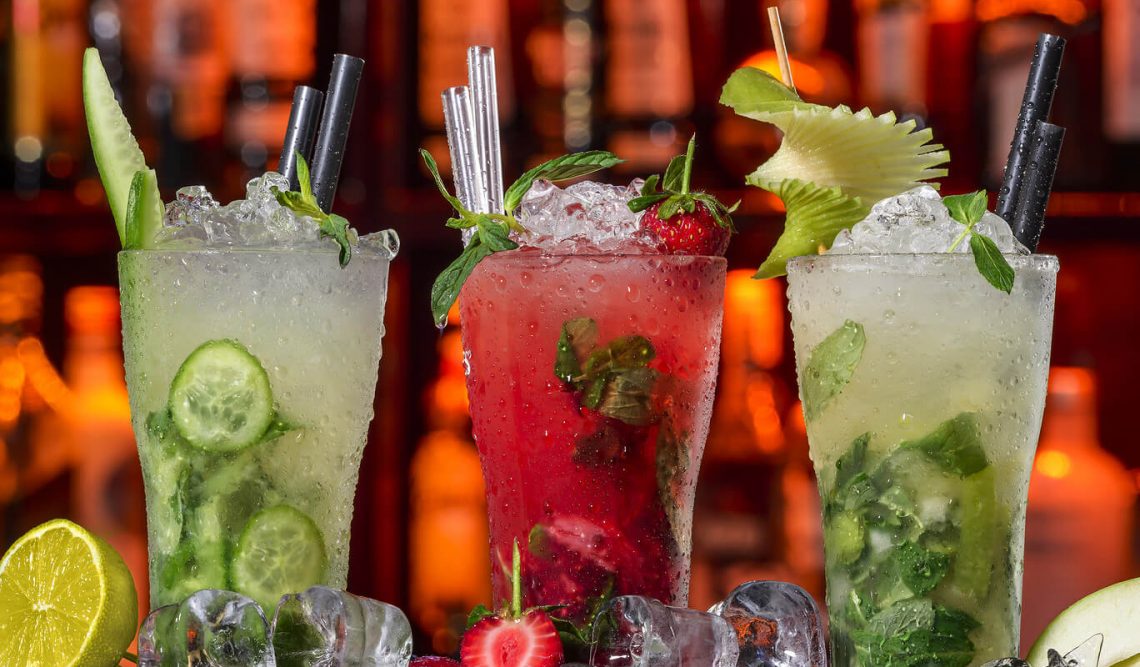 The perfect cocktail recipes for spring and summer
As soon as the weather begins to warm up, we find that many of our clients start to plan outdoor events. One of the best parts of alfresco partying is drinking cocktails under the setting sun or moonlight skies.
It's easy to be a little daunted by the idea of making your own cocktails but there really is nothing simpler. Cocktails are just a few alcoholic elements matched together with a mixer such as fruit juice and served in a special glass.
Now that you know how easy it is to make one, we've got a few spring and summer recipes to share with you:
SPRING
Cucumber Margarita
This is particularly refreshing for spring as it combines cucumber and lime juice for added zing. Wet the rim of a margarita glass and dip it in salt. Let it dry before adding ice to the glass.
Fill a cocktail shaker with ice and add Cucumber-Infused Tequila, lime juice and simple syrup and shake until chilled. Strain the cocktail into the rimmed glass so you don't get any ice from the shaker and garnish with cucumber slices.
Cajun Lemonade
A spicy twist on traditional lemonade that goes down well at parties. You'll need a large resealable container to which you add Pimms No. 1, lemonade, a small splash of Tabasco, a generous splash of rum or vodka and thin slices of lemon.
Chilled for at least an hour then shake and pour into an ice-filled pitcher. Strain the mixture into rock glasses filled with ice, stir in the 7-Up and add extra lemon slices to garnish.
Watermelon Tequila Cocktail
This is a good way of using up excess watermelon and perfect for the spring months as it is so refreshing. Puree seedless melon chunks then strain the juice through a sieve to remove any pulp. Add silver tequila, sugar syrup, blueberries, mint and fresh lime juice in tall glasses over crushed ice.
Bianca Julep
Using a highball glass, crush up some mint leaves with lime juice and simple syrup. Add bourbon and club soda and fill the glass to the top with crushed ice. Holding a swizzle stick in both hands, swizzle for around ten seconds then add mint leaves and a lime wedge for garnish.
SUMMER
Strawberry-Lemon Mojitos
Add crushed ice to highball glasses. In a cocktail shaker, crush lemon wedges with mint leaves and whole strawberries. Add ice, rum, lemon juice and sugarcane syrup and shake vigorously. Strain and garnish with mint sprigs and berry halves.
Mango-Peach Sangria
This is a really easy cocktail to make but is definitely a crowd pleaser. Simply mix simple syrup with Grand Marnier, Viognier, mango, peaches and mint then serve in tall glasses over crushed ice and peach slices for garnish.
Hibiscus Swizzle
Add crushed ice to a cocktail shaker and fill with youngberry juice, lemon juice and Hibiscus Syrup and give a good shake. Strain well into a highball glass that has been filled with ice, stir in club soda and swizzle with a swizzle stick until chilled.
Chasing Summer
This cocktail requires a little preparation but it is worth it. Make the chai tea by putting a chai tea bag into 12 ounces cold water and leave to brew for about an hour in a warm, sunny place. Then take out the teabag and refrigerate the tea for around 2 weeks. Pour the tea into a cocktail shaker with passion fruit puree, condensed milk and a splash of balsamic vinegar. Then add ice cubes and shake well. Using a Collins glass filled with ice, strain and serve.