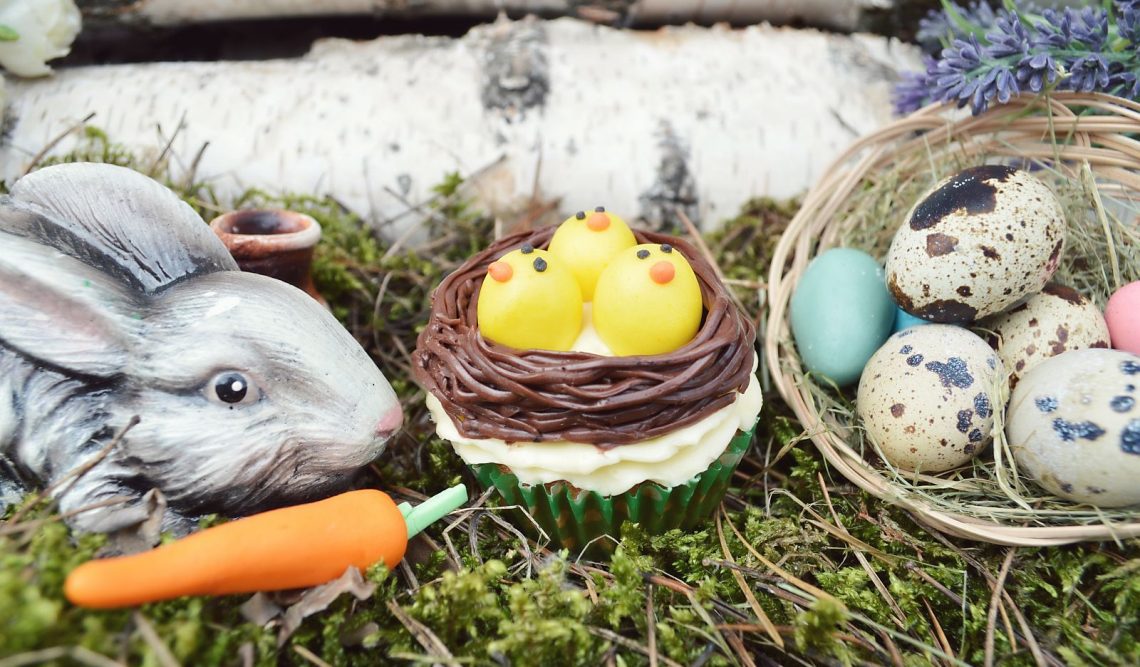 Fun, simple ways to keep your kids entertained during the Easter Holidays
Are your kids off school for a couple of weeks for the Easter holidays? If you are panicking about keeping them occupied and entertained, don't worry, we've got your back.
Easter can be expensive when you factor in the cost of the Easter eggs, the time off work to look after children, and then there's the entertainment factor. If you are dreading hearing the words "I'm bored!" or "There's nothing to do!" from your kids this Easter, you'll need a plan of action. So, to help you, we have come up with some fun tips that don't take a lot of effort on your part. Not to mention, they'll keep your little cherubs occupied for hours. You're welcome!
Craft Ideas for children at Easter
If the weather doesn't play ball (and let's face it, when does it?) you'll need indoor activities.
Decorated Easter Eggs
Hard boil a couple of eggs for each child. When they are cool, using food colouring mixed with water and a little vinegar. Let the children decorate them.
Buy large but cheap chocolate Easter eggs and using icing you can write with, let children draw self-portraits on the eggs.
Toilet roll bunnies
Save the cardboard inners from toilet rolls and give one to each child. Using any old material you have lying about the house, cover the roll for the body, then cut out ear shapes (use thicker fabric for the ears as you want them to stick up). Stick the ears on the top of the body. Cut out bunny feet and attach to the bottom. Draw on eyes and a bunny nose.
Paper plate sheep
Take a paper plate and glue on cotton balls for the sheep's fluffy coat. Cut out a face in black card along with strips for feet and attach to the plate.
Baking Ideas for children at Easter
Get your children involved in all stages of baking. For instance, choosing what they'll bake, writing the shopping list, finding the ingredients in the store, weighing out the ingredients and mixing.
Easter gingerbread bunnies
Use a simple gingerbread biscuit recipe to make the biscuits then simply cut the mixture into bunny shapes. You can try and find a bunny cookie cutter but it's not essential. In fact, you might have more fun trying to draw an Easter bunny on paper then cutting it out on the gingerbread mixture.
Mars Bar Easter nests
These are really easy to make but you need an adult in charge. Melt some butter in a saucepan until liquid, then melt Mars bars and combine. When the two ingredients are all melted add the Rice Krispies or cornflakes until fully mixed. Dollop the mixture into paper cases and leave to cool. When cold pop on miniature Easter eggs.
Easter biscuits
Described as the 'easiest biscuits you'll ever make', with only five ingredients we have to agree. You'll need butter, sugar, an egg, flour and vanilla extract. To make, beat the butter and sugar until soft and creamy, add the egg and extract then the flour. Roll out the mixture to about 4mm and use your favourite cookie cutters to cut out shapes. Bake for 8-10 mins in a preheated oven at 200C/180C fan/gas 6. Recipe link is here.
Outdoor activities for children at Easter
Easter egg hunt
If the weather is good it is a great idea to get the kids outside in the fresh air. Not only does it wear them out, but they'll be inside soon enough when it gets dark. So to make the most of the sunshine, organise some outdoor activities like an Easter egg hunt. Most supermarkets sell boxes of different-sized Easter eggs which are specifically for egg hunts.
Reverse Easter egg hunt
Whoever thought up this idea is a genius. Instead of hunting for eggs, children have empty plastic eggs and they have to look for things (usually things in nature like leaves, seeds, pebbles, twigs) to fill them up.
Easter roll
Remember those Easter eggs you decorated earlier with the family? Why not take them on an Easter egg roll? Yes, this is actually a thing. An Easter egg roll is a traditional game where decorated Easter eggs are rolled downhill and the winner gets a prize.
Easter egg toss
Finally, you can play this game with different degrees of danger, depending on the age of the players. The aim of the game is to keep throwing the egg back and forth as many times without dropping it. The jeopardy of the game is that the egg can be raw, hardboiled or plastic.