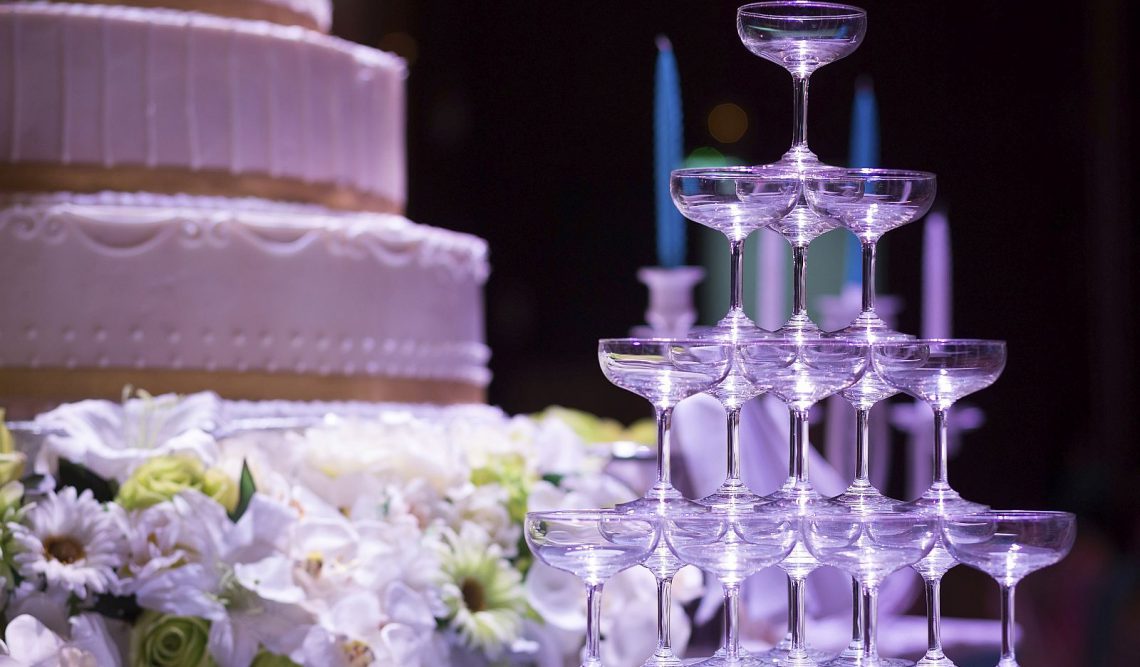 Wedding Wines: How to Choose the Perfect Wedding Tipple
October 23, 2019Janey Davies
Wedding
If you are a wine aficionado then choosing the wine for your wedding is an exciting task. However, it can be a daunting job for others. For those who are teetotal, don't drink much or simply do not have much wine knowledge, where do you even start? Luckily, weddings have general rules when it comes to choosing alcohol. In fact, the advice from experts is pretty standard when it comes to wedding wines.
Wedding Wines
Here's how to choose the perfect wedding wines:
Choose wedding wines you like to drink
The first tip on choosing the perfect wedding wines is to pick something you and your fiancé actually like to drink. The wedding wines should also be a reflection of your personality. So, don't fall into the trap of providing a really dry, white wine just because wine snobs recommend it. Pick what you normally drink.
Always begin with a glass of bubbly
Start with a glass of something bubbly to greet the happy couple. Champagne or anything fizzy will do. You should allow a couple of glasses of bubbly for the start of the meal. This serves as an aperitif and for the toasts. The fizz doesn't have to be expensive either. People just want the bubbles.
Don't stick to seasonal wines for weddings
You might be tempted to think that you can only serve wines such as light rosés for spring weddings. However, it is more important to match the wine to the food and the atmosphere. So it doesn't matter if you want that earthy autumnal red to go with your main meal but your wedding is in March.
Pairing wines with food
Once you know how to pair wine with food, choosing the perfect wine is simple.
Wine with Fish
Fish: There are four main types of fish and each one tastes different when paired with wine. As a rule, always pick a white wine to go with fish. This is because the high levels of tannins in red wine interact with the oil in fish. This leaves a metallic aftertaste in your mouth. You can have red wine with meatier fish but choose one with low tannin.
Light-flaked fish – Sea bass, plaice
Medium-flaked fish – Cod, trout
Oily fish – Sardines, herrings
Rich & meaty fish – Salmon, tuna
Lightly flaked fish go well with crisp and zesty wines such as Italian Pinot Grigio, French Muscadet, or a light Chablis.
Medium flaked fish can take stronger flavours and sauces and go well with oaked wines such as a Chardonnay or Sauvignon Blanc.
Oily fish needs a wine that cuts through the grease and can handle the intense flavour. Experts recommend Grenache Blanc, Cava and even champagne.
Rich meaty fish go well with flavoursome white wines such as Oaked Chardonnay and a White Burgundy.
Wine with Chicken & Poultry
For wine purposes, poultry is classed as either white or dark meat. Typically white meat such as chicken and turkey go well with a white wine like Chardonnay or Sauvignon Blanc.
Dark meat like duck or goose matches well with a medium red wine such as Zinfandel or Pinot Noir.
Wine and red meat
Beef can take on a robust red like a French Bordeaux or Californian Cabernet Sauvignon.
Lamb pairs well with lighter reds. For example, a delicate red such as Spanish Rioja or a light Merlot works well.
Pork is another lighter red meat that should be paired with either a low tannin red wine or a medium fruity one. Try a Californian Merlot or a red Burgundy from France.
Keep it simple
Once you have picked your wedding wines to match your menu, don't feel as if you have to go overboard with the choice. For instance, one bottle of red, one of white and sparkling wine for toasting is quite sufficient. So, as a basic rule of thumb:
Choose a white wine that is light and refreshing (think Sauvignon or Pinot Grigio)
Pick a red with a little more body that's crisp and fruity (Pinot Noir).
The sparkling wine should sit somewhere in the middle, i.e. not too dry or sweet.
Remember the temperature
Whites and sparkling wine should be served on ice or as cold as you like. The rule for wedding white wines and reds is that you should serve all wine cold. That includes reds. So you can leave the reds in the fridge half an hour before serving.
How much wine should you order?
Experts suggest that one bottle per person, plus a little bit extra is sufficient. So for 100 guests order 120 bottles with a good mix of red and white.
Finally, before ordering, always make sure to go for a tasting session. Any reputable wine merchant will take time to go through your options and make their own suggestions before you make your final decisions.