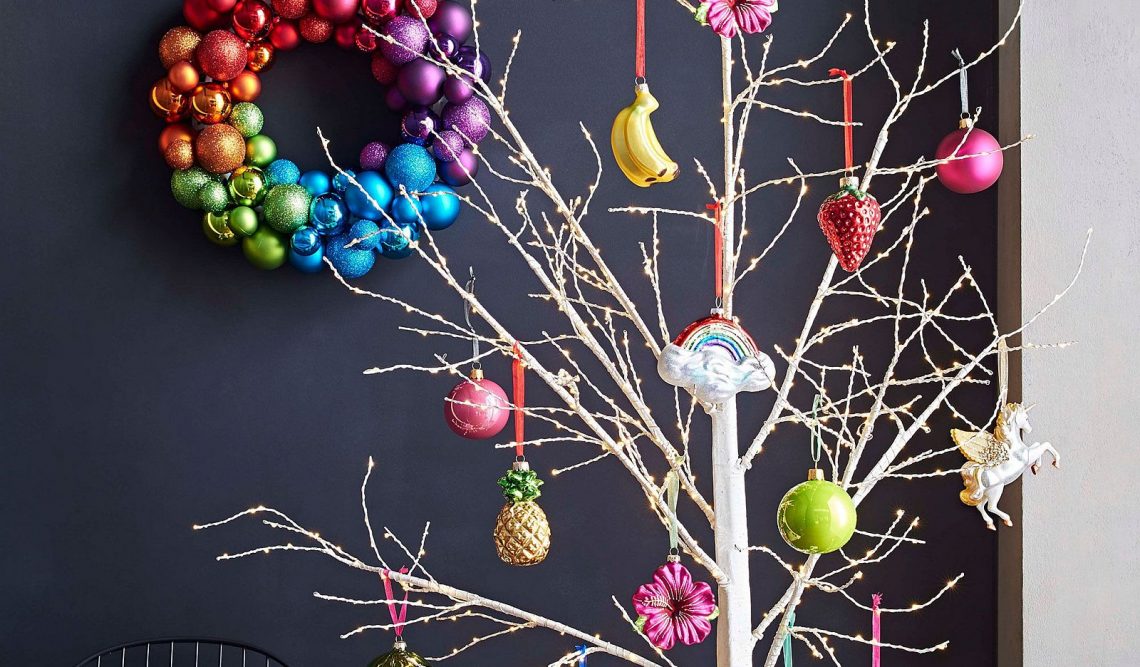 6 Amazing Christmas Colour Schemes that will delight your guests
We all know the traditional Christmas colour schemes of red and green. But if you want to make an impact why not choose something different this year?
There's nothing like that gasp of appreciation when guests walk into your house and admire your decorations. So how can you deliver the 'wow factor' simply using colour? Here's what the experts are saying are the best Christmas colour schemes for this season:
6 Amazing Christmas Colour Schemes
1.  Rainbow
When a major retailer declares that rainbow is one of their top-selling Christmas colour schemes we sit up and take note. Yes, it is true. Decorating your home in all the colours of the rainbow is the top trend this year. We advise to make one feature the focal point and not overdo it. So how do you achieve it? Well, said retailer has come up with a Christmas tree bauble set. It contains different shapes and styles of hanging baubles in every colour from red to indigo.
2. Black and White
Monochrome works well in small spaces and for those that prefer a minimalist style. It is sophisticated and classic and also very glamorous. Use those sparse pre-lit trees with thin branches to set the mood. Then add warm fairy-lights to soften the sombre colour duo. Metallic baubles and wreaths also work well with this colour concept.
3. Pink and Stripes
Think candy canes and cotton candy all done up on a Christmas tree! Mix and match your striped decorations in black and white as well as pink. And be sure to include lots of pink tinsel to set the tone. Fill in any gaps on your tree with gold or silver baubles.
4. Pantene Colour of the Year – Ultra-Violet
This is not one for the fainthearted. A dramatic colour that deserves centre stage whenever it is used. This colour can be a little overwhelming so our colour expert's advice is to mix up the textures and use matt and shiny surfaces. So think anything from velvet and feathers to metallic with iridescent sparkles.
5. Winter Silver and Gold
Image a frozen ice princess waking up in her winter kingdom to a world where everything glistens in brilliant diamond sparkles? This Christmas colour scheme sounds like a fairy-tale but looks absolutely stunning when done correctly. You want to feel that you've just walked into an ice palace, so no tacky silver tinsel. Instead, opt for an elegant silver and gold wreath made from baubles, add a touch of frosty blue to accentuate the cold. Keep hanging decorations classy and choose baubles the replicate your cold themes, such as snowflakes and icicles.
6. Pastels
Finally, this is one of our Christmas colour schemes that won't appeal to everyone. It has a young vibe but certainly has the wow factor. Pinks, lilacs, turquoise blues and pale yellows all add to this look. However, do include some golds and silvers to emphasise the festive spirit. This adds a maturity to the style.
Picture courtesy: John Lewis