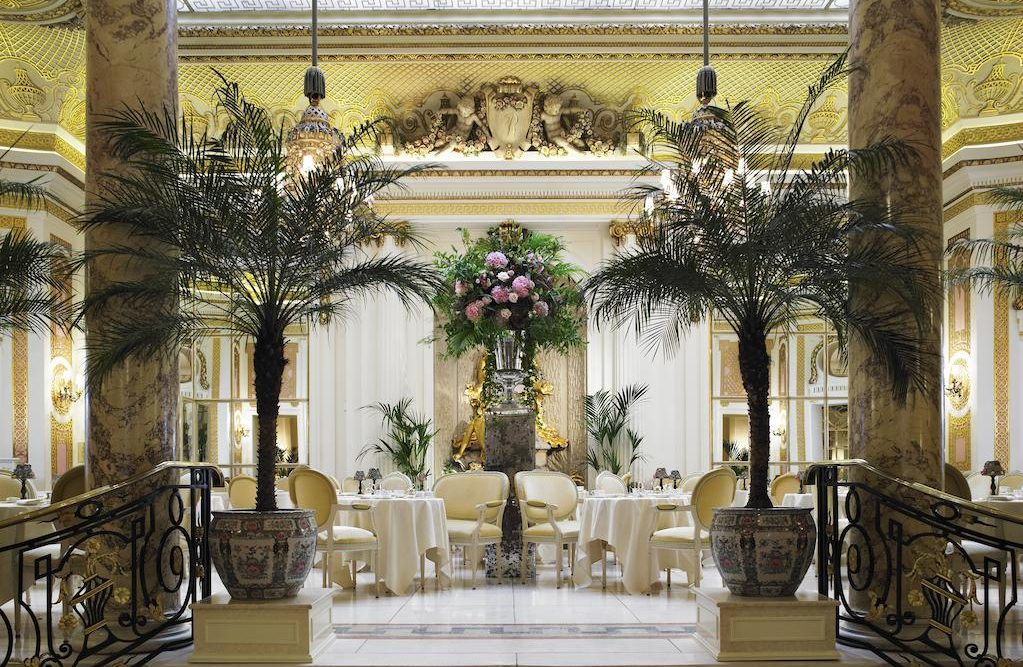 Five of the Best Luxury Five-Star Hotels in London
If you are planning a special celebration in the heart of the city and want to stay in one of London's best luxury five-star hotels we have some recommendations for you.
Some you may have heard of before as their reputation certainly goes before them. However, others might not be so well-known. Nevertheless, all these hotels have 5-star ratings and will add an extra element of luxury to your trip. If you are looking for a great stay in one of London's best luxury five-star hotels, here are our favourites.
Five of the Best Luxury Five-Star Hotels in London:
1. St. Pancras Renaissance Hotel – St Pancras International, Euston Rd, Kings Cross, London NW1 2AR
The first thing you will notice as your taxi pulls up to this hotel is the mind-blowing façade. This lights up at nights in different colours and dominates the road. The minute you step through the arched doorway you feel as if you are in a different world. The magnificent architecture has been restored and you can see original artwork and fleur-de-lys wallpaper. The rooms have impossibly tall ceilings and there's also a subterranean spa, which people book months in advance.
Expect to pay around £200 for a room.
2. Claridge's, Brook St, Mayfair, London W1K 4HR
When you think of Claridge's afternoon tea springs to mind, with delicate little sandwiches and delightful cakes on a stand complete with pots of tea. This hotel has so much more to offer, however, with modern luxury hand-in-hand with stunning Victorian architecture. The service at Claridge's is world-renowned and there is also a discreet bar where celebrities like to hang out, so if you love a bit of star-spotting, this is the place to hole up.
Expect to pay around £500 for a room.
3. Ritz, 150 Piccadilly, St. James's, London W1J 9BR
If you ever wanted to see how the rich and famous live their lives, then a stay at the Ritz will leave you in no doubt. There is so much to recommend about this hotel, from the jaw-dropping luxurious suites and rooms to the Michelin-starred restaurant. You get a wonderful sense of stepping back in time when you enter through the lobby doors. Customers have reviewed a night at the Ritz as 'truly magical', 'a once in a lifetime experience' and 'old school manners in a stunning location'.
Expect to pay around £500 for a room.
4. Shangri-La Hotel at The Shard, The Shard, 32 London Bridge Street, London SE1 9SG
If stunning views are what you came to London to see then you must stay at the Shangri-La Hotel. This is because you'll find the hotel high up on floors 34-52. If you get good weather you can pretty much see the whole of the city. The north-facing rooms that offer these views are more expensive, however. The rooms here have floor-to-ceiling glass that gives an added wow factor to this hotel that others do not have. There is an under-stated Oriental elegance about the place that gives the whole hotel a sense of quiet calm and luxury.
Expect to pay around £400 for a room.
5. Mondrian at Sea Containers, 20 Upper Ground, London SE1 9PD
1920's glamour is the inspiration for the Mondrian. You certainly get a sense of this as soon as you walk in. There are so many options for how you want to spend your time here.  There are rooms, suites and even 1-2 bed apartments where you can bed down for the night. It is undoubtedly the interiors that take centre stage here, thanks to the head of design at Habitat – Tom Dixon. The colours used in this hotel are bright. Not only that but you can also see touches of copper throughout the building. These give a nod to the building's nautical heritage. If that doesn't tempt you there's also a 56-seat cinema and Rumpus – the rooftop club.
Expect to pay from £149 a room.
Image: Courtesy The Ritz London