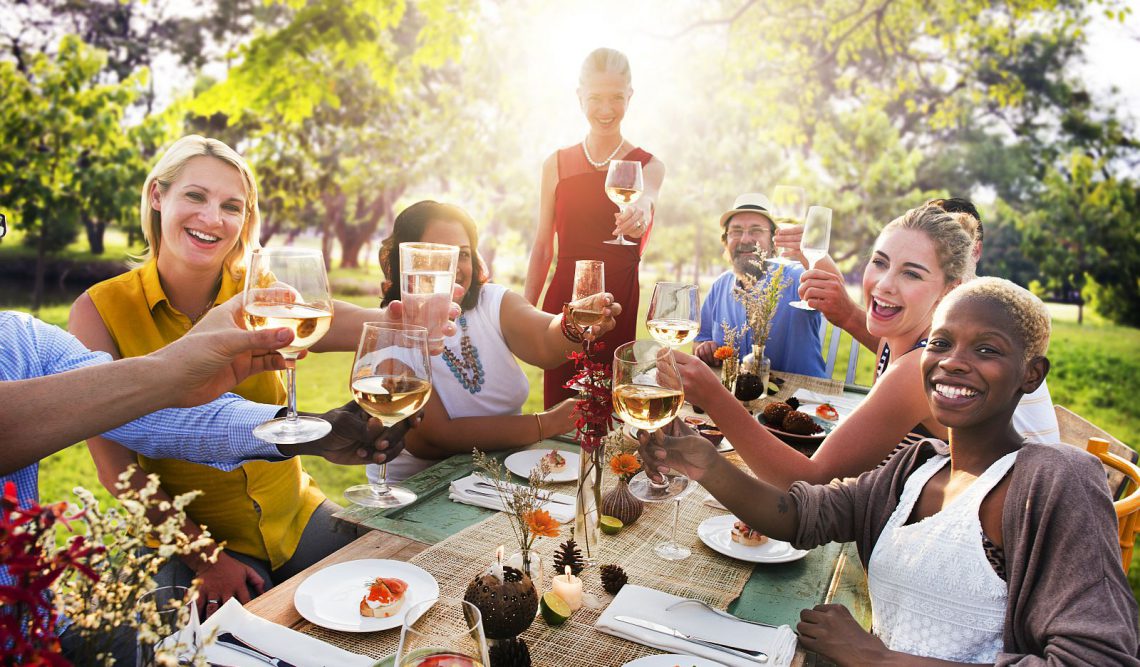 Summer Entertaining: Simple Ideas for Garden Events and Parties
The temperature is rising and we are all heading outside to take advantage of the summer weather. When it is hot outdoors there's nothing better than summer entertaining. Whether it's with family or friends, sitting out in the garden eating delicious food is one of life's pleasures.
The thing is, when it is really hot, the last thing you want is to stand over the burning coals of a barbeque. That is why we are providing some alternative summer entertaining ideas that are equally tempting. Not only that, a lot of the items can be prepared well in advance, which means the host isn't preoccupied with cooking over a barbeque.
Here are some simple ideas for summer entertaining
Summer Food
The idea behind any summer food is to keep it simple. You don't have to have loads of different dishes, but the quality should be top-notch.
It helps to have a theme and a quirky one at that. For example, think about the typical items in a picnic but arrange them in individual little baskets or boxes for people to pick up and take to their seats. Ploughman's lunches work really well for this concept and you can lay items out buffet style with pots of chutney and hunks of bread.
Or why not use summer's wonderful array of fruit and vegetables? You can create a summer fruit stand on ice where guests can plate up their favourites. Slice up watermelons and freeze with an ice cream stick so people can hold them like a lollypop.
One aspect of summer entertaining many people forget about is the desserts. You can prepare these well in advance and they're so easy. Think about exciting ice cream flavours like blueberry and vanilla, brown bread, or even avocado and serve either in cones or bowls with fresh fruit.
Summer Drinks
Mocktails are all the rage for events such as weddings and barbeques, but you don't have to serve anything as fancy as these. When it is warm outside, people are not that bothered about complex cocktail ingredients. They tend to just want something cool and refreshing.
So, the important thing is to keep drinks very cold. Have a cool box full of ice and stack it with beers. Set up a lemonade or a fresh juice stand and serve in vintage bottles with crushed ice. When serving juices, pack the glass full of ice and slices of fruit. A bowl of sangria or fruit punch which is chock full with slices of fresh fruit and sitting in an ice bowl is perfect as guests can help themselves whenever they are thirsty.
If it is really hot, make sure that cool water is freely available. Children are at risk of overheating in the summer so one good way of hydrating them is to provide flavoured ice pops. Or how about ice cream sodas? These go down really well with adults as well as the children.
Another idea is to freeze juices such as orange or mango in a lolly mould with pieces of the same fruit in with the juice.
Summer Dining
Opt for low tables and cushions if you want a casual vibe to your summer entertaining. Blankets on the ground are good for events or parties where the venue has large lawns. These ideas work well with the picnic or Ploughman's themes. For food that is tricky to eat, seat guests around a table.
As for colours, blue stripes give a nautical feel, whereas bright greens add to the outdoor vibe. A vase of fresh flowers will give height to your table. On the other hand, candles in votives will provide light when the evening draws in.
Choose crockery and cutlery that will withstand the outdoors, so nothing flimsy like paper plates or plastic tumblers. Good quality crockery will add to the overall dining experience. And besides, we all want to reduce our plastic use and what we send to landfills.
Summer Entertainment
From live bands to a playlist, marry your entertainment to the guests and, if possible, the food and the theme. For example, have hula girls in Hawaiian skirts greeting guests and dishing out flower garlands with Elvis Presley music playing in the background.
Why not have a pool party where guests bring their swimming cosies and you can theme the party around Baywatch or Jaws?
You don't need a live band to create a buzz at your summer party. Warm evenings lend themselves to fireworks. You can keep it a surprise or make sure all your guests know that at the end of the night there'll be a fantastic firework display.
Finally, set aside a dance floor and ask guests on their invites to recommend a few songs for your playlist. Nothing gets people up and dancing like hearing their favourite songs.